FREE E-BOOK!
The Pursuit of Uninnovativeness
How to Prevent Innovation in Your Company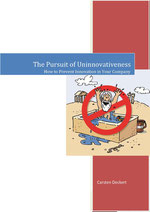 The guidebook "The Pursuit of Uninnovativeness" does for innovation management what Paul Watzlawick´s book "Situation is Hopeless, but not Serious – The Pursuit of Unhappiness" did for self-help. It shatters some of innovation management´s basic assumptions, mocks its mumbo-jumbo and mercilessly reveals its inadequacies and broken promises.
Carsten Deckert shows the numerous methods companies and individuals use to prevent innovations and to make their lives and the lives of others generally uncreative and unimaginative. Hence it invites you to critically question some of your beliefs about innovation previously held dear and to put your own behavior – and that of your company – to test.
The book is the English translation of the German book "Anleitung zum Uninnovativsein" by the same author. The English edition is published FOR FREE on this website. So please feel free to download it, print it for private use and share the link of the book with as many people as you like.
The Pursuit of Uninnovativeness - How to Prevent Innovation in Your Company
Carsten Deckert_Pursuit of Uninnovativen
Adobe Acrobat Dokument
603.9 KB
About the Author