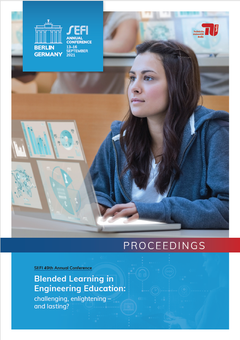 The presentation I gave on "Virtual Whiteboards & Digital Post-Its" at the SEFI 2021 Conference "Blended Learning in Engineering Education: challenging, enlightening – and lasting?" is now published in the proceedings. My co-authors are Ahmed Mohya and Sujieban Suntharalingam.
Here is the abstract:
Creativity plays an important role in the problem-solving process of engineering. Many engineering tasks can be understood as special cases of creative problem solving. Creative problem solving in companies often includes creative sessions in teams and the use of creativity techniques for groups such as brainstorming or morphological box, where ideas are recorded on a whiteboard with various visualization aids such as sticky notes. Due to the COVID-19 pandemic, courses in creativity and innovation management in engineering curricula face the challenge of teaching creative problem solving, while the lecturer and the students work from home using cooperation platforms such as MS Teams or Zoom to interact. The functionality of these platforms with regard to ideation are limited so that internet-based tools for ideation can offer a sensible complement through e.g. virtual whiteboards enabling e-brainstorming sessions with spatially distributed participants. The paper gives an overview over internet-based tools for ideation (i.e. idea creation and idea evaluation) highlighting their functionality, templates and possible areas of use in engineering education with regard to creative problem solving. Furthermore, the paper discusses first experiences of teaching creative problem solving in a virtual environment including a feedback of students from a master course in industrial engineering.
Link to the publication: https://www.researchgate.net/publication/356748984_VIRTUAL_WHITEBOARDS_DIGITAL_POST-ITS_-_INCORPORATING_INTERNET-BASED_TOOLS_FOR_IDEATION_INTO_ENGINEERING_COURSES