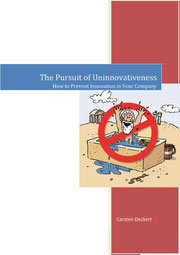 The new year is just a few days old, and to celebrate 2012 I publish the English edition of my book "Anleitung zum Uninnovativsein" as an e-Book on this website under the titel
The Pursuit of Uninnovativeness
How to Prevent Innovation in Your Company.
And the best thing about it: You can download it FOR FREE!!!
The only thing I ask for is, if you download the book, please leave a short message in the comment section of this blog entry. You might tell me who you are, why you download the book and how you like this offer, for instance. This way I get a little feedback. Or maybe you want to tell me your most stunning encounter with uninnovativeness. Thanks in advance!
I published the German edition of my book in September 2009 as a print-on-demand book. So far it has made quite good progress, and I got a lot of valuable new business contacts for my work as a management consultant. Of course it is no "Harry Potter", but for a business book it is doing quite well and I am content with it.
After a while the idea of an English idea came to my mind and grew and grew. So at one point at the end of 2010 I sat down at my desk and started to translate the book. Since I did the translation entirely myself without the help of a native speaker of English, there might be some mistakes or expressions which are more Genglish (German + English) than English in it. In fact, I expect that there a quite a few. So if you find any of them, I would appreciate it, if you could let me know. I will collect them and after a while incorporate them into a second revised edition.
I decided to publish the book FOR FREE to maximize its circulation. So please feel free to download it, print it for private use and share the link of the book with as many people as you like. Here is the link to The Pursuit of Uninnovativeness.
I sincerely hope that you enjoy reading it and look forward to your comments.