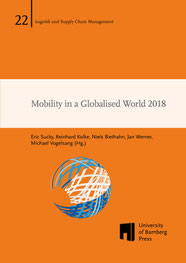 Klaus Stodick from UPS and I presented a paper on micro depots in parcel delivery at the conference "Mobility in a Globalised World 2018" in Mülheim. Now the respective conference proccedings have been published by University of Bamberg Press with our contibution "Sustainable Parcel Delivery in Urban Areas with Micro Depots". Here is the abstract:
Due to the growing trend in urbanization, city logistics becomes of paramount importance to provide the inhabitants of cities with vital goods. Targets of city logistics are the relief of the strain on the transport infrastructure and the reduction of mostly direct emissions such as nitric oxide. City logistics uses mainly three effects to achieve its targets: bundling of transports and matching of the flows of goods, separation in space and/or time and the use of environment-friendly means of transport.
The German CEP industry (courier, express and parcel) plays a major role in supplying cities with necessary goods. However, it also has negative impacts on the quality of living in urban areas such as exhaust and greenhouse gas emissions and blocked roads. To dampen these negative effects, the CEP service provider UPS (United Parcel Service) uses micro depots as a more sustainable alternative for parcel delivery.
A micro depot is an interim storage in the city and divides the last mile of transport into a second-last mile (from the depot of the CEP service provider to the micro depot) and a very last mile (from the micro depot to the final recipients). It combines the bundling of transports (full truckload delivery to micro depot) with the use of environment-friendly means of transport (electric cargo bikes on the very last mile) to simultaneously relieve urban infrastructure and reduce emissions. The concept has already been realized by UPS to deliver parcels amongst others in the inner cities of Hamburg and Munich.
Link: https://opus4.kobv.de/opus4-bamberg/frontdoor/index/index/docId/54827